Suzhou Top Attractions

Humble Administrator's Garden (Zhuo Zheng Yuan)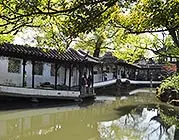 Being one of the four most famous gardens in China and the largest garden in Suzhou, the Humble Administrator's Garden is a masterpiece of classical gardens in South Yangtze River region. The garden is divided into three sections and each has its own features. The delicate pavilions and corridors, windows of various shapes, along with winding paths fully represent the skillful techniques of ancient gardeners. Meanwhile, the names of most structures in the garden have a connotation, usually conveying the former owners' wills or attitudes towards life.

Tiger Hill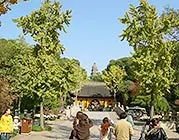 A noted poet Su Shi in Song Dynasty (960-1279) once said, "It's a lifelong pity if one visited Suzhou without going to the Tiger Hill". From his words, we can know what Tiger Hill means to the city. It's a luxuriant hill where the Tomb of King He Lu during the Spring and Autumn Period (770 BC-476 BC) is located. Besides, it abounds in precious cultural relics, including the Tiger Hill Pagoda, Sword Testing Stone and Sword Pool. The Buddhism culture, excellent landscape, profound history background, as well as the legendry tales all contribute to the charm of Tiger Hill.

Lingering Garden (Liu Yuan)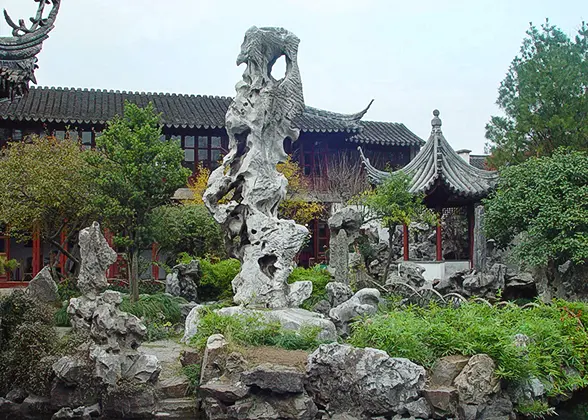 First built in 1593 during the Ming Dynasty (1368-1644), the garden has a long history of more than 400 years. In the Lingering Garden, buildings, trees and flowers blend harmoniously with their surroundings. Liu Shu, one of the previous owners, was an enthusiast for stone collection. He collected many unusually-shaped lake stones in the garden, among which Guan Yun Feng is the most precious one and gains honor for the garden.

Zhouzhuang Water Town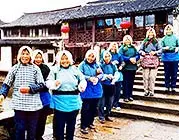 Zhouzhuang Water Town, inheriting the splendid culture of Wu State in the Spring and Autumn Period, is the best example of water countryside in China. There, you can enjoy a view like a Chinese landscape painting, just as what described by Ma Zhiyuan (a poet of Yuan Dynasty) in his lyric – a few houses hidden past a narrow bridge and below the bridge a quiet creek running. The pastoral waterside scenery and peaceful life will definitely enchant you.

 Tongli Town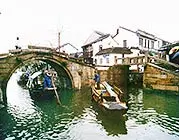 Only 11 miles (18 kilometers) from the downtown Suzhou, Tongli is a wonderful travel destination where you can experience the original water town life in rural China. As a land divided into seven sections by fifteen rivers, Tongli relies heavily on bridges for the sake of transportation. The antique bridges there are exquisite and well-preserved and the Ternate Bridges are the most famous of all. The locals have a tradition to walk on the three bridges on happy occasions. In addition, the residential houses and gardens are also very charming.
source:www.travelchinaguide.com